The picturesque landscapes of New Zealand aren't just home to mesmerizing sights and the famed kiwi bird, but also to a thriving beer culture. Over the years, the Kiwis have developed an insatiable thirst for both brewing and consuming ales, lagers, and everything in between.
From Tradition to Innovation: The Evolution of NZ's Beers
Historically, New Zealand's beer scene was dominated by larger breweries producing staple lagers. However, the last two decades have seen an explosion in craft beer innovation. From hops grown in the fertile soil of the Nelson region to distinct flavors from Maori-inspired brews, NZ's beer has transformed from mainstream to incredibly diverse.
The Role of Ingredients in Crafting Flavors
Just as the terroir influences the taste of wine, the pure waters and unique ingredients of New Zealand give its beers an edge. Here's a breakdown:
NZ Hops: Recognized globally, they impart a distinctive taste ranging from piney to fruity.
Barley and Malt: Sourced both locally and overseas, they play a pivotal role in the beer's body and color.
Water: The purity of New Zealand's waters cannot be understated, contributing to the crisp finish many NZ beers are known for.
Crafting the List: How We Ranked NZ's Top 100 Beers
Curating a list of the top 100 beers is no easy feat. We considered factors like taste, popularity, awards, and the beer's influence on NZ's beer culture.
Top 100 NZ Beers: The Best of the Best
New Zealand's Top Beer Varieties and Their Exemplary Brews
1. Pale Ale
One of the most popular beer styles in New Zealand, the Pale Ale is all about balance.
Epic Pale Ale – Brewed in Auckland, it's a hoppy beer with a crisp finish, showcasing the unique NZ hops.
2. India Pale Ale (IPA)
Strong and hoppy, the IPA has seen a massive resurgence thanks to the craft beer movement.
Tuatara Aotearoa Pale Ale – A beer that takes traditional aspects of the IPA and infuses it with New Zealand hops.
3. Pilsner
A lager beer with a crisp, refreshing finish.
Emerson's Pilsner – Hailing from Dunedin, this pilsner offers a smooth, malty base with a hoppy bite.
4. Lager
The universal beer style, lagers in NZ range from light and crisp to full-bodied.
Monteith's Original Ale – A smooth and malty beer that's perfect for any occasion.
5. Stout
Dark and robust, stouts often have hints of coffee, chocolate, and even caramel.
Mike's Vanilla Coffee Stout – This Taranaki brew incorporates coffee and vanilla for a unique, delightful flavor.
6. Porter
Similar to stout but generally lighter, the porter is another dark beer enjoyed by many.
Panhead Blacktop Oat – A smooth, creamy porter with hints of chocolate and roasted malt.
7. Wheat Beer
Light and often hazy, wheat beers are perfect for summer days.
Moa White Lager – A wheat beer with a hint of coriander and citrus.
8. Saison
A highly carbonated and fruity beer, often with a hint of spice.
Garage Project Hāpi Daze – A refreshing, clean beer with a citrusy punch.
9. Sour Ale
A category that's seen a surge in popularity, sour ales are tart and tangy.
8 Wired Gypsy Funk – Aged in wine barrels, it's a sour beer with a complex fruity profile.
10. Barleywine
A strong ale with a high alcohol content and often sweet, malty notes.
Renaissance Stonecutter Scotch Ale – This Marlborough ale is rich and full-bodied, with a malty sweetness.
11. Session Beers
Beers with lower alcohol content designed to be enjoyed over longer sessions.
Parrotdog Falcon – A light and hoppy beer perfect for long summer evenings.
12. Hybrid/Mixed Styles
Beers that don't neatly fit into one category but offer unique flavors.
Three Boys Oyster Stout – Infused with real oysters, it's a beer that truly encapsulates the essence of New Zealand.
13. Belgian-style Ale
Inspired by Belgian traditions, these ales often have fruity and spicy notes.
North End Saison Du Nectar – Combining Belgian traditions with NZ honey, it's both spicy and sweet.
14. Double IPA (DIPA)
Like the IPA, but stronger and hoppier.
Liberty Citra DIPA – With a heavy citrus punch, it's a hop lover's delight.
15. Amber Ale
Balanced beers with a hint of malt sweetness.
Croucher Lowrider – A highly drinkable beer with a beautiful amber hue.
16. Bock
German-originated lagers that are stronger and maltier.
Harrington's Big John Special Reserve – A robust and hearty brew perfect for cooler days.
17. Golden Ale
Light and easy-drinking ales with a subtle hint of hops.
McLeod's Paradise Pale Ale – Refreshing with a slight tropical twist.
18. Red Ale
A malt-forward beer with caramel notes.
Cassels Red IPA – Combining the malty goodness of red ales with the hoppy punch of IPAs.
19. Brown Ale
Earthy and malty with hints of chocolate and coffee.
Two Fingers Auburn Attitude – A smooth ale with rich, nutty undertones.
20. Schwarzbier (Black Lager)
Dark lagers that are surprisingly light in taste.
Zeelandt Black Monk Schwarzbier – A delightful play of roasted malts and lightness.
21. Kölsch
A hybrid beer, fermented with ale yeast but matured like a lager.
Townshend Sutton Hoo American Wheat – A refreshing beer with a slight citrus aroma.
22. Berliner Weisse
A sour and often fruity wheat beer.
Funk Estate Jungle Boogie – A tangy brew with blood orange notes.
23. Gose
A sour beer with a hint of saltiness, often infused with fruits.
Garage Project White Mischief – A delightful blend of saltiness with the sweetness of peaches.
24. Wild & Brett Ales
Beers fermented with wild yeast strains, leading to unpredictable and exciting flavors.
8 Wired Wild Feijoa – Incorporating the native NZ fruit, feijoa, for a tart finish.
25. Specialty Beers
Unique brews that defy traditional categorization.
Behemoth Chur! NZ Pale Ale – A hop-forward brew that encapsulates the spirit of NZ's craft beer movement.
26. Tripel
A strong, spicy, and slightly sweet Belgian-inspired ale.
Moa St Josephs Tripel – With hints of clove and banana, this brew is a tribute to classic Belgian Tripels.
27. Light Beers
Beers with reduced alcohol content, perfect for those wanting a lighter option.
Speight's Mid Ale – Flavorful, yet lighter in alcohol, a great option for those wanting to enjoy without overindulging.
28. Rye Beers
Made with a portion of rye grains, which imparts a unique spicy note.
Renaissance Stonecutter Scotch Ale – A beautiful blend of malts with the unique character of rye.
29. Brett Beers
Fermented with Brettanomyces yeast, giving it a unique tartness and funkiness.
Wild Workshop Divine Intervention – A wild ale with a sophisticated balance between fruity and funky.
30. Quadrupel (or Quad)
A very strong Belgian-style ale with rich and robust flavors.
North End Iron Sands – A rich, malty brew with the sweetness of dark fruits.
31. Brut IPA
A relatively newer style, it's dry, effervescent, and highly carbonated.
Deep Creek Misty Miyagi – A crisp IPA with a refreshing finish reminiscent of dry champagne.
32. Milk Stout
Stouts brewed with lactose, giving it a creamy sweetness.
Kereru For Great Justice Coconut Vanilla – A creamy stout enriched with flavors of coconut and vanilla.
33. Baltic Porter
A smoother, stronger variant of the traditional porter.
Zumwohl Baltic Porter – With notes of plum, chocolate, and coffee, it's a luxurious treat.
34. Helles
A German-style pale lager, malt-forward with a crisp finish.
Garage Project Golden Path – A sessionable, easy-drinking lager.
35. Bière de Garde
A strong pale ale or keeping beer traditionally brewed in farmhouses in the Nord-Pas-de-Calais region of France.
Choice Bros Reet Petite – A rustic brew with earthy undertones.
36. NEIPA (New England IPA)
Hazy and juicy IPAs with a softer mouthfeel.
Epic Hazy – Bursting with tropical fruit aromas and flavors.
37. Dunkel
German-style dark lager with malty sweetness.
Tiamana Pils Dunkel – Combining the crispness of a Pilsner with the depth of a Dunkel.
38. Rauchbier
Characterized by its smoky flavor from the use of malted barley dried over an open flame.
8 Wired The Big Smoke – A beautifully smoked brew with balanced flavors.
39. English Bitter
Traditionally cask-conditioned, these are malty and only slightly hoppy.
Croucher Patriot – An English ale with a Kiwi twist, showcasing local hops.
40. Eisbock
Strong lagers achieved by freezing off a portion of the water.
Invercargill South Pole Ale – A rich, warming beer perfect for cooler evenings.
41. Wheatwine
A stronger version of wheat beer with complex flavors.
Fork Brewcorp Golden Goose – A delicate balance of fruity esters and alcoholic warmth.
42. California Common
Also known as Steam Beer, it's fermented with lager yeast at warmer ale fermentation temperatures.
Sprig & Fern Steam Ale – A clean, well-attenuated, and uniquely crisp beer.
43. Marzen / Oktoberfest
Traditional German lagers that are full-bodied and rich in malt.
Zumwohl Oktoberfest – A seasonal treat with toasty malt flavors.
44. Black IPA / Cascadian Dark Ale
Combines the hop-forward elements of an IPA with dark malts.
Panhead Vandal – Tropical hop aromas with roasted malt undertones.
45. Session IPA
All the flavors of an IPA, but with a lower alcohol content.
Behemoth Lid Ripper – A hop bomb with a restrained alcohol punch.
46. Grisette
A low-alcohol beer traditionally brewed for miners.
Boneface The Juice Dry Hopped Grisette – Light, yet flavorful with a noticeable hop character.
47. Foreign Extra Stout
A stronger version of the traditional stout, often with more pronounced flavors.
Liberty Prohibition Porter – Dark, rich, and robust.
48. Witbier / Belgian White
A spiced, fruity wheat beer often brewed with coriander and orange peel.
Tuatara Ardennes – Crisp with a slight citrusy tang.
49. Cream Ale
Combines the features of ales and lagers for a smooth brew.
Kereru Karengose – A refreshing ale with a hint of corn sweetness.
50. Flanders Red Ale
A sour beer from Belgium with a deep red hue.
8 Wired Grand Cru – Aged in wine barrels, offering complex tartness.
51. Doppelbock
A stronger and maltier version of the traditional German Bock.
Harrington's Beast of the East – A velvety brew with dark fruit notes.
52. Mixed Fermentation Ale
A beer fermented with a mix of yeast strains for a complex profile.
Garage Project Temple of Boom – A blend of different barrel-aged beers for a unique flavor journey.
53. Gruit
Historical beers brewed without hops, using a mix of herbs for flavor.
Moon Under Water Witchcraft – A mystical blend of flavors without the influence of hops.
54. Kristallweizen
A filtered version of traditional wheat beers, resulting in a clear brew.
Three Boys Wheat – Clean, refreshing with subtle fruity undertones.
55. Lichtenhainer
A German beer that's both smoky and sour.
Fork Brewcorp Smoke & Mirrors – A delightful juxtaposition of tang and smoke.
56. Altbier
A German-style top-fermented beer which is conditioned at cooler temperatures.
Liberty Oh Brother – A smooth, malty brew reminiscent of Düsseldorf's classics.
57. Sahti
A traditional Finnish beer, brewed with a variety of grains and juniper berries.
8 Wired Nordic Sahti – Combining New Zealand innovation with Finnish tradition, offering a piney aroma and robust flavor.
58. Saison
Originally brewed in Belgian farms, these are effervescent and fruity ales.
Garage Project Hāpi Daze – A refreshing, hop-forward take on the classic Saison.
59. Barleywine
A strong ale that's rich and malty, often with fruity nuances.
Deep Creek Old Money – A vintage brew that's both powerful and sophisticated.
60. Vienna Lager
Characterized by its amber-red hue and toasty malt character.
Emerson's Vienna Lager – A beautifully balanced lager with a malt-driven profile.
61. Oud Bruin
A Flemish Brown Ale, complex with a mild sourness.
Choice Bros Reet Petite – A nuanced brew, aging gracefully with tart undertones.
62. Japanese Sake-Yeast Beer
Beers brewed with sake yeast, offering unique fruity flavors.
Yeastie Boys Inari Biru – A fusion of brewing cultures, presenting a delicate balance of beer and sake notes.
63. Trappist Ale
Beers brewed in monasteries, rich in history and flavor.
North End Fieldway APA – Though not an official Trappist, it's brewed in reverence to the traditional style.
64. American Strong Ale
A broad category of robust ales, varied in flavor.
Panhead Supercharger – Packed with hops, it's bold and unapologetic.
65. Pilsner
Crisp lagers with a notable hop bitterness.
McLeod's Longboarder – A nod to the Czech classic with a Kiwi twist.
66. Hybrid Beers
Combining elements from various beer styles.
Tuatara ITI – A little beer with big character, blending the best of ales and lagers.
67. Traditional Perry
Not quite beer, but a fermented beverage made from pears.
Zeffer Cider Co. Perry – Crisp, refreshing, and a delightful representation of New Zealand's fruit.
68. Grodziskie
A Polish oak-smoked wheat ale, light and smoky.
Boneface The Darkness – Offering a Kiwi rendition with a smoky finish.
69. American Wheat Beer
Wheat beers that are cleaner than their German or Belgian counterparts, often with a hoppy punch.
Renaissance Discovery – A refreshing ale, perfect for New Zealand's sunny days.
70. Kvass
A traditional Slavic beverage, often made from rye bread.
Garage Project Bread and Butter – Paying homage to this ancient brew while adding a contemporary spin.
71. Quadrupel (Quad)
High in alcohol, these beers often carry dark fruit flavors and strong malt characteristics.
Moa St Josephs – A heady concoction that intertwines rich malts with dark fruit undertones.
72. Ice Beer
A beer that's undergone freeze distillation, resulting in a richer flavor and higher alcohol content.
Monteith's Black Ice – Smooth and velvety, with a powerful punch.
73. Berliner Weisse
A sour, wheat beer of German origin.
Epicurean Coffee & Fig Berliner Weisse – An innovative blend, uniting sourness with sweet undertones.
74. Milk Stout
A stout brewed with lactose, offering a creamy and slightly sweet taste.
Dark Horse Cream Stout – Luxuriously creamy with hints of roasted malts.
75. Rauchbier
A German-style beer known for its smoky character.
Three Boys Smoked Ale – A robust ale with a subtle, smoky backdrop.
76. Specialty IPAs
Incorporating unique ingredients or processes.
Hop Federation Green Limb – An IPA brewed with fresh pine needles.
77. Traditional Bock
A malty, German lager that's less strong than its Doppelbock counterpart.
Founders Generation Bock – Smooth and malty with a touch of hop bitterness.
78. English Bitter
A traditional British ale, known for its balanced flavors.
Croucher ANZUS – A Kiwi twist to the classic, featuring New Zealand and American hops.
79. Roggenbier (Rye Beer)
German-style beer brewed with a significant amount of rye grain.
Mike's RyePA – Spicy rye notes with a hoppy kick.
80. Pre-Prohibition Lager
Recreating lagers brewed in the U.S. before the days of Prohibition.
Lucky Supreme Lager – A throwback to yesteryears, crisp and refreshing.
81. Gose
A sour, salted wheat beer originally from Germany.
8 Wired Gose Gold – A tart beer with a pinch of salt, bringing out a nuanced flavor profile.
82. Fruit and Spice Beer
Brews infused with various fruits and spices.
Behemoth Raspberry White Chocolate Pilsner – A delightful fusion of fruitiness, sweetness, and the crispness of a Pilsner.
83. Brett Beer
Brews fermented with Brettanomyces yeast, giving a distinct tart or sour taste.
Parrotdog BitterBitch – Funky undertones accompanied by a hop-forward profile.
84. New England IPA (NEIPA)
A hazy, fruity IPA variant.
Deep Creek Misty Miyagi – Bursting with tropical fruit notes and a soft, juicy finish.
85. Scottish Ale
Malty and often with caramel undertones.
McLeod's Pioneer – Rich with malty sweetness and a touch of smokiness
86. Session Ale
Lower in alcohol, these are perfect for those looking to enjoy multiple glasses without the heavy alcohol content.
Bach Brewing Driftwood Session Pale Ale – Light, crisp, with a burst of citrus hop flavor.
87. Kölsch
A German-style ale that's fermented at warmer temperatures and then conditioned at cooler ones.
Sawmill Kölsch – Clean, with a delicate balance of malt and subtle fruitiness.
88. Märzen / Oktoberfest
Traditionally brewed in March and enjoyed in October, these are malty and toasty lagers.
Zeelandt Brewery Märzen – Rich and toasty, embodying the spirit of Oktoberfest.
89. Lichtenhainer
A smoky, sour German ale – a rather niche style.
Wilderness Brewing Smoked Sour – A harmonious blend of smoky undertones with a tangy kick.
90. Imperial Red Ale
A more robust version of the standard Red Ale, with pronounced hops and malt.
Fork Brewcorp Red Rocks Reserve – Bold, with caramel malt flavors enhanced by a hoppy finish.
91. Brut IPA
A dry IPA with effervescence reminiscent of Brut champagne.
Epic Thunder – Crisp, bubbly, with a vibrant hop profile.
92. Black IPA / Cascadian Dark Ale
Dark malts combined with the hop-forward nature of IPAs.
8 Wired Black Wired – A seamless blend of roasted malts and tropical hop flavors.
93. Gruit / Ancient Herbed Ale
Beers brewed with herbs, spices, and botanicals instead of hops.
Moonlight Brewery Artemis – An aromatic symphony of herbs creating a unique and memorable experience.
94. Foreign Extra Stout
A stronger version of the traditional stout, originally brewed for export.
Galbraith's Resurrection – Hearty, with pronounced roasted malt characteristics.
95. Cream Ale
A hybrid style, combining the features of ales and lagers.
Sunset Brewery Velvety Cream Ale – Smooth, with a lager-like crispness and an ale's fruitiness.
96. Baltic Porter
A smoother, stronger version of the English Porter, lagered for clarity and smoothness.
Cassels & Sons The Milkman – Rich, with notes of chocolate, toffee, and dark fruits.
97. Wheatwine
A strong ale that's a hoppy version of the barleywine but made predominantly with wheat.
Hallertau Wheat King – A symphony of wheat's softness with the strength of a classic wine.
98. California Common / Steam Beer
A uniquely American style, fermented with lager yeast at warmer ale temperatures.
Liberty Brewing C!tra – Amber-hued, with a delightful play of malt and citrus hops.
99. Mixed-Fermentation Sour Beer
Beers fermented with a blend of yeast and bacteria for complexity.
Fermentis Wild Beast – Tart, funky, and endlessly intriguing.
100. Bière de Champagne / Bière Brut
Highly carbonated and spritzy, often aged and re-fermented in the bottle.
Waiheke Island Brewery Oyster Stout – Luxurious, with subtle briny notes, reminiscent of a fine champagne.
Craft Breweries: The Heartbeat of NZ's Beer Revolution
From garage start-ups to internationally recognized brands, NZ's craft breweries have been instrumental in shaping the country's beer narrative. Some noteworthy mentions include:
Nelson Craft Brewery: Known for their hop-forward brews.
Auckland Alehouse: Renowned for their experimental batches.
Queenstown Brew Co.: Their range of high-altitude brews is a must-try.
NZ Beer and Food Pairing: A Culinary Experience
Pairing beer with food enhances the dining experience. Whether it's a light ale with seafood or a robust stout with steak, there's an NZ beer for every dish. Our top pairing suggestions include:
Seafood: Light lagers or pilsners.
Spicy Dishes: Wheat beers or pale ales.
Red Meat: Stouts or porters.
The Journey Ahead: What's Next for NZ Beers
With a foundation rooted in innovation and quality, the future of NZ's beer scene looks promising. From eco-friendly brewing practices to collaboration brews, NZ is set to continue making waves in the global beer community.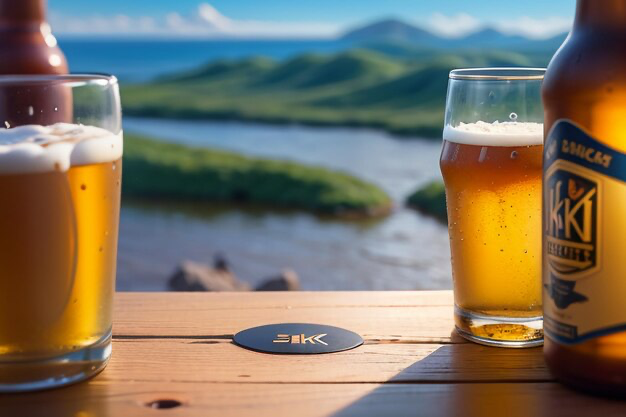 Conclusion
The journey through NZ top 100 beers is a testament to the country's rich beer culture. From traditional brews to modern craft innovations, NZ offers a beer for every palate. As the beer landscape continues to evolve, one thing remains constant: New Zealand's commitment to brewing excellence.
FAQs
How has the craft beer movement influenced NZ's beer scene?
The craft beer movement has ushered in a wave of innovation, diversity, and quality in NZ's beer offerings.
Are NZ hops used globally?
Yes, NZ hops, especially varieties like Nelson Sauvin and Motueka, are popular in breweries worldwide.
What sets NZ beers apart from others?
Factors like unique local ingredients, pure water, and innovative brewing techniques contribute to the distinct taste profile of NZ beers.
Is beer tourism popular in New Zealand?
Absolutely. Many tourists visit NZ not just for its scenic beauty but also to explore its vibrant beer culture.
Do NZ breweries offer tours and tastings?
Yes, many breweries, especially craft ones, offer brewery tours where visitors can learn about the brewing process and enjoy tastings.